Playgrounds are an incredible place for children to grow, exercise, develop social skills, and learn from one another. In addition to the cognitive benefits, there are emotional benefits as well. Unstructured playtime tied with physical activity can reduce stress levels and help children deal with their emotions. All of these great things are incredibly important to the development of children.
With playgrounds being such an instrumental place for children's development, it is important that they're safe. While the structures may be protected with rails or handholds, there is always a chance an accident may occur. In these circumstances, it is imperative that the playground designers/owners pick out the right surfacing to protect the children.
In today's world, there are many different surfaces to choose from. You could go with the classic pebbled gravel, or something a little more streamlined such as poured in place rubber flooring. All of the options can be overwhelming when deciding which surface you want to go with. This article will walk you through the different types of surfaces; their benefits, possible drawbacks, and finally, the cost.
Engineered Wood Fiber (EWF)
Wood fiber is an organic material that is great for eco-friendly playgrounds. It is constructed by spreading a thick layer of wood fiber chips across the playground's surface. However, because it is a loose surface, it requires a high amount of regular maintenance. With these types of surfaces, children often scoop the wood fibers or, in high traffic areas, naturally move the fibers around when running. In order to compensate for this change in the surface, install these at the minimum depth to keep the playground safe.
Each playground must comply with the critical fall heights designated to a specific area of the playground. This means if a structure is a certain height, the surface must be a justifiable depth, to avoid serious injury. Due to the compliance codes concerning critical fall height (CFH), these loose surfaces need to be regularly raked and inspected in order to maintain safety across the playground.
The average cost of the materials is only about $1.50 to $3.00 per square foot. However, this does not include installation or site preparation. While these types of surfaces can be cost efficient initially, they do have the most maintenance required. These surfaces must be inspected bi-weekly in order to rid the area of any foreign objects, and as mentioned earlier, they need to be raked in order to comply with safety codes. Additionally, you may need to add material over time to ensure you have enough depth to comply with safety regulations.
Synthetic Grass
Synthetic grass is another great option for protection for the children, but it is a bit more pricey than loose materials. Synthetic grass is also a great alternative for other materials such as rubber or wood. The grass gives the playground a nice natural feel while often providing lower surface temperatures. The material itself comes with or without infill, but infill will be required by professional installers to help maintain its structure. Depending on the manufacturer, the cost of the synthetic grass can be higher or lower, but this method can run anywhere from $15-$23 per square foot.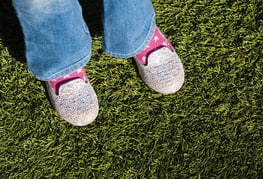 The initial cost is a lot higher, but the maintenance required is not nearly as involved as any loose surfacing available. Moderate testing is still required, but less frequently. Generally, these surfaces deteriorate over time and when they do they require resurfacing.
Bonded Rubber and Poured in Place Surfaces
Bonded Rubber Surfacing is a more affordable alternative to poured in place rubber. We offer our DuraTurf bonded rubber in a variety of color options with 100% premium recycled shredded rubber. We can produce the look of shredded natural fiber mulch without the maintenance of loose mulch. Bonded Rubber Surfacing can cost between $10-$15 per square foot.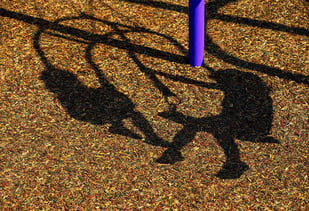 While more expensive, whether you want solid colors or a myriad of colors, Poured in Place surfaces can fit whatever you need. Due to the flexible nature of the Pour in Place design, you can put your school's mascot, church's logo, or any other design you would like into the surface. These surfaces are the most expensive on the list for a reason. They are by far the most durable and have the highest elasticity of any of the other surfaces we have named so far. These surfaces are perfect for both indoor and outdoor surfaces due to their flexibility and durability. Also, this surface is great despite any weather conditions. Rubber non-stick surfaces are very non-stick, making them extremely safe for children playing in the rain. Also, due to the high elasticity, it is one of the safest surfaces on the list. This surface also has the least maintenance required. While it does need a drop test 3 years after installation, many manufacturers will cover the cost of the inspection. At roughly $16-$25 per square foot, it is by far the most expensive, but requires the least upkeep and will be around for the long haul.
Conclusion
In the end, it is all up to you from what you are willing to sacrifice and what you can afford. Loose fillings are great options for low funded schools due to their low entry costs, but it does require the most maintenance and time. The synthetic grass is a nice, cost effective, and a worthy alternative to other unitary surface options due to its natural look and low surface temperature. It does require a moderate amount of maintenance, but it is durable and safe. Rubber tiles and Poured in Place rubber surfaces are by far the most durable with the least amount of maintenance required. Every playground and budget has different needs, and hopefully this will help you get your surface selected or re-installed to keep the children safe and your playgrounds looking great!