Planning a playground site can be daunting. How tall to build the structures? What are the fall height demands for structures that tall? What is the proper material to use that can take such a fall while doing as minimal maintenance for as low a cost as possible? Most of these questions can be focused by answering one question: What is the typical life expectancy for playground surfaces?
One must understand not only what materials the surrounding playground areas are made of but also the walkways, the edging, protective surfaces and mats. Each of these factors, as well as general usage, can factor in on the lifespan of the playground surface material used. Proper cleaning and maintenance will allow these playground surfaces to last up to their manufacturer's usage date, and sometimes beyond. Inspecting these areas regularly can help mitigate risk of failure as well as spot wear points ahead of time.
Poured Rubber Material
Many playground surfaces are made from recycled rubber that is poured as a unit into a specific area surrounded by concrete. This is an incredibly long-lasting material that does not regularly decompose and has excellent impact resistance when installed correctly and at proper thickness. Following correct protocol according to the ASTM International, formerly the American Society for Testing and Materials, can yield a playground surface that will last for more than 10-15 years with correct maintenance.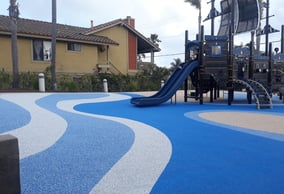 Many of these poured rubber materials can have strict guidelines for maintaining their product. Small particles of rocks, mulch, and other such grime are recommended to be removed by blower or light wash on a regular basis. Other things such as gum or bodily fluids have specific cleaning products which are recommended. The longer such contaminants are left on these surfaces, the more damage they will sustain. Following the correct guidelines from your surfaces maintenance manuals will yield longer-lasting playground surface materials.
Loose Filled Artificial Materials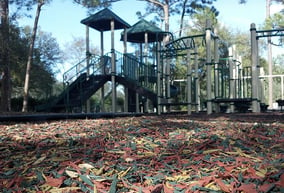 Engineered wood fibers, recycled rubber mulch, and other types of artificial playground loose fill materials can be maintained very similarly to natural mulch materials. Contaminants such as glass or rocks should be sought out and removed regularly. Wear mats, edging, and pathways should likewise be inspected for wear or malfunction. Some of these can be hazards, but most will simply quicken your loss of material. Worn mats and edging should be replaced as soon as they are discovered and loose material must be maintained to correct heights for maximum impact absorption. Engineered wood fibers are recommended to be topped off every few years to maintain their specified height for safety compliance.
Tiled Surfacing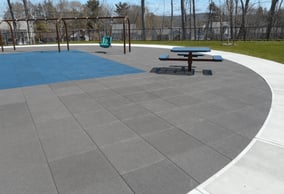 There are several styles and types of surfaces that can be fitted and installed together. Tiles are very sturdy pieces of playground surface that often have a molded, gripped, rubber running surface on top or a layer of customizable turfgrass. These tiles are locked together and often will hold up to impacts for close to a decade. While general use and weathering effects can take their toll on the surface itself, with proper maintenance it is most often the hardware that breaks down first. These surfaces are best inspected often and can be replaced very easily. Cleaning and inspecting the surfaces as well as hardware can help create a lasting playground surface for many more years to come.
Every playground surface lasts a different amount of time. Bonded and poured rubbers will last longer than loose fill material, but each of these surfaces requires good maintenance and stewardship in order to live up to its maximum potential and beyond. Expert care is needed to keep these grounds and surfaces safe for the little visitors they see every day.